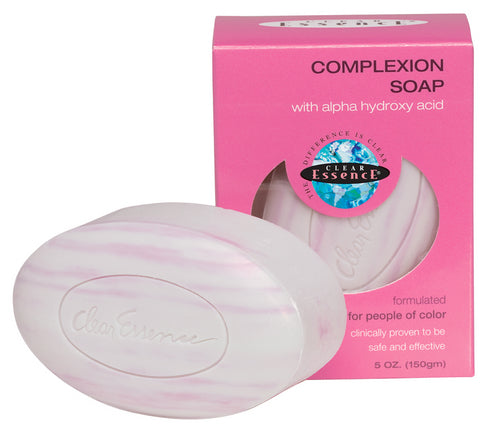 Clear Essence Complexion Soap with Alpha Hydroxy Acid 5 oz
Usually ships the same business day.
* How It Works:
The Complexion Soap with Alpha Hydroxy Acid cleans and treats blemishes, formulated for mature normal, oily, or dry skin. The Complexion Soap moisturizes the entire body as it cleanses, exfoliates and tones for a beautiful younger and healthier complexion. Alpha Hydroxy Acid accelerates skin regeneration and helps to clear dead skin cells quicker while keeping the top layer of the skin soft and radiant.

Shown to be clinically effective against :
* Rejuvenates the skin and improves elasticity
* Moisturizes the skin as it cleanses
* Exfoliates dead skin cells to reveal a soft radiant complexion
* Gradually fades darks spots and uneven skin discoloration

How To Use:

Lather soap with clean wet hands or on a terry wash cloth. Gently massage the creamy lather on the skin. Rinse completely with warm water. Gently pat dry with a towel. The Complexion Soap work great in removing makeup and dirt without robbing the skin of its natural oils and moisture, for maximum results, use twice daily; once in the morning and once at night. For an Anti-Aging Body Treatment : Cleanse the face and body with the Complexion Soap with Alpha Hydroxy. Treat the skin with the Medicated Fade Creme with AHA, or the Advanced Complex Fade Gel with AHA. Finish with the Skin Beautifying Milk with AHA as an all-over body moisturizer.

Essential Ingredients:

Lactic Acid, Sodium Tallowatte, Sodium Cocoate/Sodium Palm Kemelate, Water (Agua), Glycerin, Fragrance, Titanium Dioxide, Sodium Chloride, Lactic Acid (An Alpha Hydroxy Acid), Tetrasodium Etidronate, Pentasodium Pentetate, D&C Yellow #10, FD&C Blue #1.
Great product!
This soap is really moisturizing and leaves your skin super soft and feeling clean! You can really tell that it removed all the dirt and oil from the day.