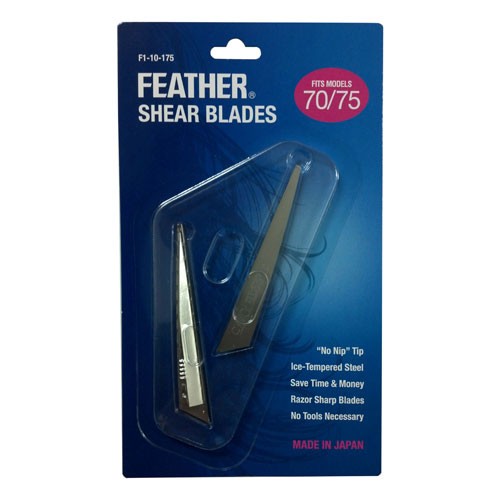 Feather Switch Blade for 7" or 7 1/2" Shear- Made in Japan
Usually ships the same business day.
In stock
*Never sharpen shears again! When blades get dull, switch them out with sharp new ones.
*Twice tempered stainless steel frames and blades for long lasting strength and durability.
*Exclusive "No-Nip" tips are designed to eliminate accidental nipping of the fingers.
*Made in Japan
Don't waste your money on expensive shears!!!
I've been cutting hair for 15 years, and I would never even consider buying some crazy expensive shears. These shears and replacement blades are sharper too. My friend has a $1,000 pair of shears he actually makes payments on them, my shears are sharper than his and any other I've seen. They're super razor sharp, and when they get dull you replace them for $12, which for me is about once a year. I usually buy several replacement blades at a time and that takes me long ways. I feel like it's not even fair to all the other barbers who don't know about this "secret". One man told me about them 15 years ago and I still haven't met another barber who uses them.