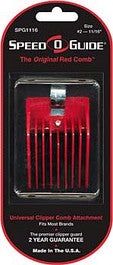 Speed-O-Guide Comb Attachment
Usually ships the same business day.
In stock
* Fits Most Brands
* Highest-quality plastic provides both strength and flexibility.
* Nickel-plated, heat-treated clip to withstand many changes.
* Smooth teeth edges.
* Teeth are sized and spaced for accurate measuring.
The Best
The Speed-O attachment are the best guards on the market!