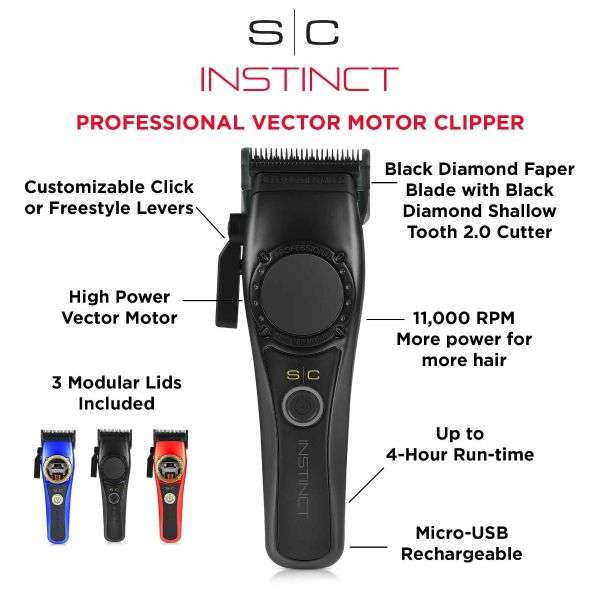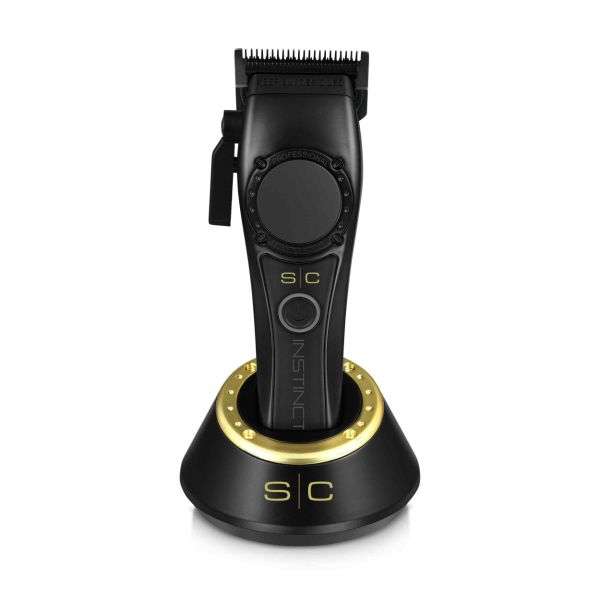 Stylecraft SC607M Instinct Vector Motor Clipper with Intuitive Torque Control
Usually ships the same business day.
• PROFESSIONAL VECTOR MOTOR runs at 11,500 strokes per minute
• INTUITIVE TORQUE CONTROL detects resistance and adjusts torque
• BLACK DIAMOND Carbon Faper Blade with Black Diamond Carbon deep slim moving blade
• LITHIUM-ION BATTERY delivers up to 4 hours of run-time with 2-hour recharge
• MICRO-USB rechargeable for worldwide use
• FULLY ADJUSTABLE ZERO GAP BLADE for the closest cut and finish
• INCLUDES: Hair Clipper, Black Diamond Carbon Faper Blade, Black Diamond Carbon DLC deep slim tooth cutter, 8 White magnetic guards (1/16", 1/8", 3/16", 1/4", 3/8", 1/2", 5/8", 3/4"), blade cover, stretch bracket, Micro-USB cord, charging stand and cord, cleaning/maintenance kit and screwdriver, 4 extra screws as spare parts
The world of clippers will never be the same.  Since the beginning of time barbers and stylists have wanted a clipper that was the size of their hand, acting as an extension of the arm.  The Instinct clipper not only has an incredibly compact size but has faster blade speed and more power.
One of the smallest, lightest weight, and most powerful hair clippers in a compact, ergonomically designed body.  3 modular body kits with transparent motor showcase options along with assorted click or floating taper levers are included in the box. 
Assembled with a fixed Black Diamond Carbon Faper Blade that has hypoallergenic properties for sensitive skin, along with a Black Diamond Carbon DLC deep slim cutter which is great for superior blending, fading, and bulk removal.
Fully adjustable blade with modular click and floating levers can be easily zero gapped for the closest cut and finish.
The battery life of the Instinct Clipper can last up to 4-hours, but the actual duration may vary based on the usage of the Intuitive Torque Control and the amount of torque applied. Charging stand and micro-USB included for worldwide use.

Fabulous Clipper
This here clipper is the best clipper that i have owned. I have 2 pairs of the stylecraft ergo and those cut like champ. But right when i thought it couldnt get no better stylecraft came through with the Instict. These cut even better and i get through my fades a whole lot quicker. The faber blade gets my fades where they need to be in no time and they also bald out the lines of my fades great as well. I have been cutting hair since 1992 and by far this is the BEST one i have ever owned. I would recommend this clipper to all barbers, even if youre a rookie. The click lever helps guide you through fades. Only con that i have is that it gets hot pretty fast. With that being said I will be purchasing a 2nd one so that i will be able to alternate between the two to make sure that i can continuously give my clients a great looking cut. Im not a spokesman for Stylecraft but a very huge fan of thier clippers. Great job SC. I cant wait for what you all put out next.
Best clipper out!!
Best clipper on the market n best clippers has fast shipping