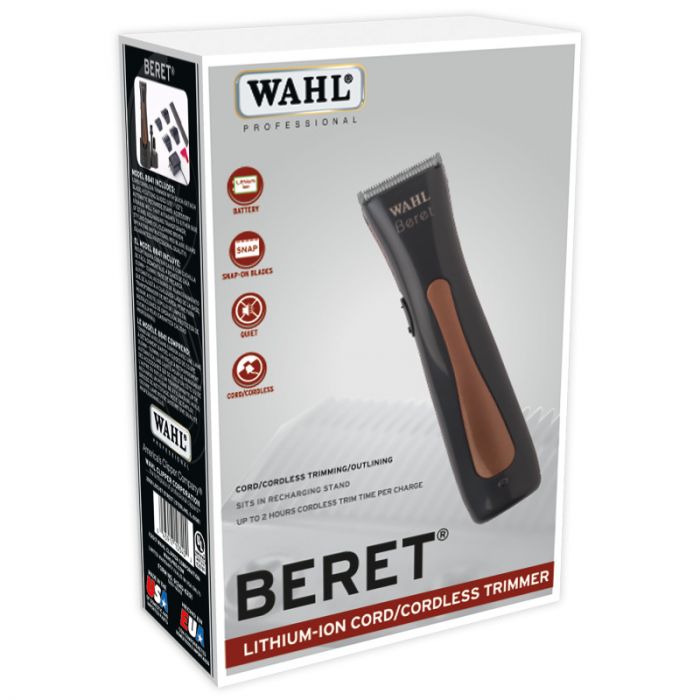 Wahl 8841 Beret Lithium-Ion Cord Cordless Trimmer
Usually ships the same business day.
In stock
The Wahl Beret Trimmer gives you the convenient feature of both cord and cordless use and is powered by a lithium ion battery for a 2 hour run time. The snap on blades provide high precision accuracy for a clean line and cut and are easy to clean and maintain. The Wahl Beret Trimmer includes the professional trimmer, automatic recharge stand, accessory storage well that attaches to either side of the stand, recharging transformer, 4 trimming guides (1/8" - 1/2"), oil, cleaning brush, styling comb, operating instructions, and red blade guard, all of which are guaranteed for professional quality in your salon. The Wahl Beret Trimmer measures 5.5 inches in length, weighs 4 ounces, features s rotary motor, lithium ion battery, and 2111 snap-on blade. Made in the U.S.A., this lightweight rechargeable trimmer is a stylists dream!
MOTOR Rotary
UNIT WEIGHT 4oz
UNIT LENGTH 5.5"
BLADE 2111
BATTERY Lithium-Ion
ACCESSORIES Recharge stand, oil, cleaning brush, styling comb, instructions, red blade guard
Absolutely quiet
I work in a mens salon and I love using this fpr kids, elderly, and anyone with sensory issues, especially in the Autism spectrum. I normally have to turn my clippers on behind my back, but this trimmer is stealth. I literally had one person vomment that they thought the battery was about to go dead, it's that quiet. Bought it as a secondary trimmer and Ive been reaching for it more often. I can slam it up against my arm and no scratches either!!! Very nice. Wish it was bamboo insert ir wood grain instead of a copper insert, but thats my only complaint.